Uncategorized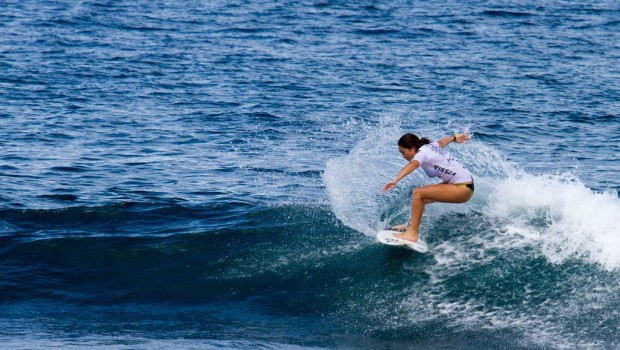 Published on September 23rd, 2016 | by nowhere man
0
New Zealand Juniors Successfully Battle Small Waves at Worlds
The New Zealand Junior Surfing Team successfully battled small conditions of less than 1.0m against the world's best junior surfers at the Vissla ISA World Junior Surfing Championships overnight (Monday 19th September).
All five surfers competing on day two advanced through to the third day of the event which is being held in the Azores Islands located off Portugal.
Mount Maunganui surfer Raiha Ensor tipped the tables on our French counterparts by winning her match up. The French surfers have had the better of the first round heats so far, beating us in four out of five match ups but Ensor posted a 9.20 point heat total to win her heat over Nina Reynal.
"The conditions were pretty fickle out there today but coming from the Mount I've had a bit of experience in these kind of waves" said Ensor.
"It took me a few waves to find my rhythm but I eventually figured it out and picked up a few runners to get the win" she added.
Ensor who is fresh back from competing for New Zealand at the World Surfing Games held in Costa Rica was also happy to see her fellow female team mates advance through their heats and make it a clean sweep for the Kiwi girls.
Britt Kindred was one of Ensor's team mates who advanced despite conditions being the total opposite of her home break at Muriwai Beach. Kindred managed to place second in her heat and advance to day three where she expects to be more at home in a building swell and onshore winds, conditions that she says are more common of her home break.
In the Under 16 Girls Division Kea Smith and Elin Tawharu, both of Mount Maunganui, placed second in their heats. Smith was glad to see out the first round which is always filled with nerves at such big international events.
"I sat at watched the surf with the under 16 boys and they helped me out with where I should sit and the signs they were going to do to help me during the heat" said Smith.
Meanwhile Tawharu posted the Kiwi's highest heat total of the event with 12.33 points out of a possible 20 placing second behind 2015 event champion Summer Macedo (HAW).
"My game plan was just to build my scores as the heat went on" said Tawharu who did exactly that in her heat.
After a delay in proceedings due to the small swell and full tide, Kehu Butler contested his first round heat late in the afternoon. He was the only male team member to surf on day two.
Butler placed second in his heat scoring 9.60 points to Australia's Billy Harrison who scored 11.96 points. Both surfers advanced to the next round.
"Yeah I feel much more relaxed now that the first heat is out of the way and I will have a lot less nerves coming into the next round" said Butler who plans not hold back as much on his opening manoeuvres and commit to his strengths in the next round in order to ramp up his performance.
After two days of competition, Kaya Horne (Gold Coast based), Daniel Farr (Tara) and Lee Ririnui (Mnt) are yet to get their campaigns underway.
Day three of the event will see nine team members in action while Butler, Jonas Tawharu (Mnt) and Jared Gebert (Ohope) will have the day off.
The New Zealand Junior Surfing Team is competing amongst 39 nations and over 370 surfers at this year's event, the biggest in the history of the International Surfing Association.
Please see below for results from day two of competition held at Praia do Monte Verde on the Azores Islands today 19th September 2016.
Under 18 Girls Main Event Round 1
Heat 4
Juliette Brice, FRA, 7.83, 1, Britt Kindred, NZL, 5.00, 2, María Cristina Game, ECU, 3.70, 3
Heat 13
Raiha Ensor, NZL, 9.20, 1, Valentina Resano, NCA, 7.26, 2, Nina Reynal, FRA, 6.60, 3, Ben-Aid Oumaima, MAR, 0.93, 4
Under 16 Girls Main Event Round 1
Heat 13
Uhaina Joly, FRA, 14.66, 1, Kea Smith, NZL, 7.27, 2, Yariann Del Mar Camacho, PUR, 5.63, 3
Heat 16
Summer Macedo, HAW, 17.50, 1, Elin Tawharu, NZL, 12.33, 2, Cecilia Silva, PUR, 4.64, 3
Under 16 Boys Main Event Round 1
Heat 20
Billy Harrison, AUS, 11.96, 1, Kehu Butler, NZL, 9.6, 2, Neil Aboufiras, MAR, 7.5, 3, Freddy Sanford, CAN, 3.36, 4
Please see below for the day three schedule which will be held overnight tonight (Monday 19th September).
Podium 1
8:20pm – Daniel Farr (Under 18 Boys Main Event Round 1)
8:40pm – Lee Ririnui (Under 18 Boys Main Event Round 1)
1:20am – Elin Tawharu (Under 16 Girls Main Event Round 2)
1:40am – Kea Smith (Under 16 Girls Main Event Round 2)
4:45am – Elliot Brown (Under 16 Boys Repechage Round 1)
Podium 2
11:00pm – Kaya Horne (Under 16 Boys Main Event Round 1)
12:40am – Britt Kindred (Under 18 Girls Main Event Round 2)
2:40am – Raiha Ensor (Under 18 Girls Main Event Round 2)
4:50am – Manu Scott – Arrieta (Under 18 Boys Repechage Round 1)
The Azores Islands are located off the coast of Portugal. The event location picks up a lot of swell and when the surf gets over 1.5m, it becomes a powerful beach break with challenging waves.
The New Zealand Team finished 15th at the 2015 ISA World Championship which was won by the home team USA over France in second and Hawaii in third. The team is expected to climb back up the rankings this year given the experience of the selected surfers and a surf break that will suit the surfers. For the first time, the ISA will also utilize a four-man priority system eliminating the need to hassle for waves.
The World Junior Surfing Championships is an annual event having been held since 2003. New Zealand has competed at the event since its inception as well as competing at the World Grommet Titles as it was formerly known since 1989.
Further Information
For further information on the New Zealand Junior Surfing Team please contact Surfing New Zealand's Ben Kennings on 021 2278732 or email benkennings@surfingnz.co.nz.
Imagery
High resolution action images of the team will be available to media free of charge upon request.
Surfing New Zealand Newsletter
If you want to keep updated with surfing information delivered right to your inbox then sign up to the fortnightly SNZ Newsletter.
Follow Surfing New Zealand
Follow Surfing New Zealand via all Facebook, Instagram, Twitter and Snapchat @surfingnz
Surfing New Zealand are proudly partnered by:
Sport NZ
SunSmart
Ends