News
Published on July 25th, 2018 | by nowhere man
0
NZ Surfing Issue 182 Out Soon!
NZ Surf Mag July/ August
While Spring is usually the season for new life and new beginnings, we've delivered a little early this year with the latest issue of NZ Surfing and the first issue as the new owner for Cory Scott and his team at Nowhere Man Limited. Straight from the depths of the Aoteroa Chiller, we bring you the Winter Interview Issue which features:
Page One! On the COVER we feature one of our Kiwi WQS battlers in Elliot Pearata-Reid and while NZ bathed in some epic consistent waves for winter, places like Indonesia simply lit up. So often we see and hear how brutal the WQS tour can be with miserable, dribbly waves. But while on Tour and having scored some great waves for the contest in Sumatra, Elliot stayed on for a few days after the comp and scored big time!  Photo: Lachlan McKinnon
Interviews with a broad range of kiwi surfers from our pros to our industry to those out there in the world pioneering pathways in surfing. We catch up with Paige Hareb on surfing in Kelly's pool, Luke Cederman on his maiden win and life's lessons from being married at first sight, Geoff 'Hutch' Hutchison on shredding into your twilight years and giving back to the sport, Christie Carter pioneering the Mentawai's Surf Camp movement, and rounding off the interviews Ricardo Christie talks lessons learnt from life abroad and his return home.
This Issue Features:
Mangamaunu Under Threat:  One of our most iconic surf breaks and one that was supposed to be protected under law now faces an uncertain future under the cloud of the proposed construction of a cycleway, snuck in without consultation under the emergency earthquake recovery act.
The Hard Yards: Faced with the cleanest and biggest manageable swell in a few years, the lure of the machine (jet ski) is cast aside in favour of some good old-fashioned 'Hard Yards'.  Man against nature, paddle power!
The Rip Curl Pro Raglan: Against all forecasting odds, for what looked like a miserable surf outlook for the 2018 Raglan Pro, Raglan delivered! Reminding us of just how phenomenal this break can be.
Back In The Hood- With Jay Quinn: After 15+ years being based overseas in Australia and more recently Europe, which placed Jay in the spotlight of surf media and sponsorship opportunities, Jay is now back home in the hood! But it's a different Waikanae Beach where he now resides than the one he grew up near.
Chilled Lines Photospread:  Several epic moments frozen in time from the chilled lineups of Winter 2018.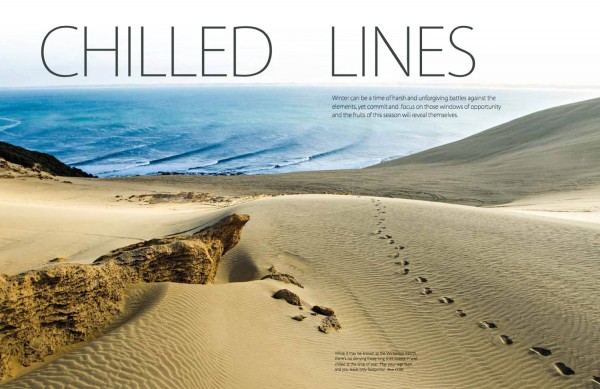 The 2018 Rip Curl International GromSearch Final: Assembling all the worlds regional champions and sending them to the iconic points of Raglan was a dream come true for the 16 qualified surfers. Grom comps such as these when held on our shores give us a glimpse into the future of world surfing dominance and much like the Pro-Junior comps and ISA World Juniors of the past, those names that excelled are now on top of the world.
The Winter Survival Guide:  We've collated a heap of tips from the experts to surviving winters elements and making your surfing experience all that more comfortable. Combined with a gear guide of winter essentials.
Plus much more NZ surfing goodness from the shores and surfers of Aotearoa!!!
NZ Surfing is available at all good bookstores, supermarkets, Gas Stations and selected core surf shops. You can also subscribe by contacting subscriptions@nzsurfmag.co.nz or www.isubscribe.co.nz
NZ Surfing is also available for digital download on www.magzter.com
www.nzsurfmag.co.nz is undergoing updates on its shop site so please be patient, we'll get to it when the wind goes onshore!