Published on September 17th, 2019 | by nowhere man
O'Neill O'Riginals Part 2- Beau Cram
THE O'RIGINALS are surfers living life on their own terms. They're chippies and gardeners, backyard shapers and artists, child prodigies and biomolecular engineers. They're riding all manner of craft, in all manner of surf, all over the world. They're surfing for nothing more than the absolute freedom of it and they remind us that committing to a surfing life is not that hard to do. So long as you can tap into that passion for riding the sea.
They are ordinary folks, committed to experiencing the extraordinary.
FEATURING: Freewheelin' chippie Beau Cram, biomolecular engineer Max Weston and child prodigy turned Indo adventurer Reef Doig. Captured and crafted by Surfing World Editor Danny Johnson (Scary Good/Ain't That Swell), filmmakers Kaius Potter, Thibault Upton, Spencer Frost and produced by Rob Bain and Ella Risby.
First up in Series 2 we feature Beau Cram who kiwi surfers may have just seen hanging out on our shores where he filmed a few waves for this clip.
The Sydney chippie is perhaps the most relatable O'Riginal yet. A bloke who works the tools to save money for his next surf jaunt and to somewhere with big hollow pits.
His is a story familiar to many of us. That is until you realise he's also the son of former Top 10 power mongrel Richard Cram. The same Cram who melted people's face's off with his epic cutties in the iconic 80s surf film The Performers. Incredibly Richard retired from the tour in his mid-20s and it goes without saying that his offspring grew up with a healthy understanding that winning heats isn't the be-all and end-all of surfing.
While Beau has the DNA to bury the rail and throw buckets with the best of them, it's his creativity and experimentation that have seen him go on to become one the most naturally gifted surfers in any line-up. This regardless of whether he's riding a conventional thruster, a retro twin, a finless softie, or even an alaia.
But it's travel and adventure that really gets Beau charged. If he's not on site somewhere around Sydney, you can bet he's threading 12 footers at Tombies, gliding down the long empty points of Mexico or J-Bay, or paddling out at some remote snow covered beachie in remote NZ. No restrictions, no timetables, always on his own terms.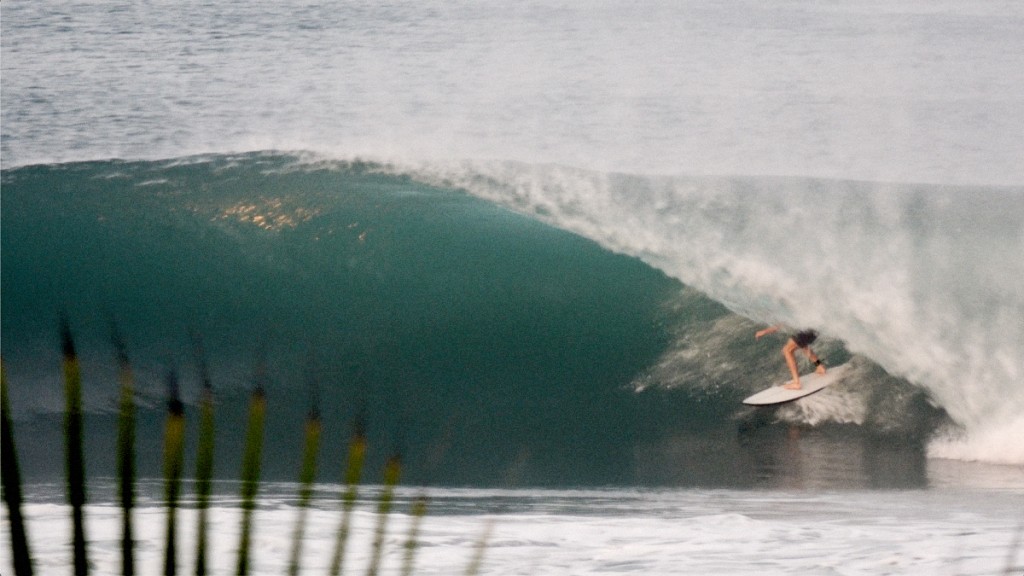 Beau heading out to Indies at Raglan.