News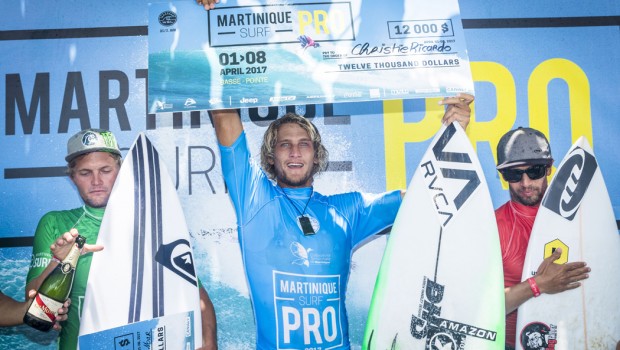 Published on April 10th, 2017 | by nowhere man
0
Ricardo Christie wins Martinique Surf Pro
Ricardo Christie, 28, has taken out the third edition of the Martinique Surf Pro over Bino Lopes, 29, in good three-to-four foot waves at the iconic righthand pointbreak of Basse-Pointe.
The final quickly picked up the crowd's interest as set waves rolled in right from the opening minutes and offered both competitors a chance to put a big number on their scoreboard. Lopes was first to capitalize with an excellent 8.50 backed up with a high 6 but Christie though a little slower to act, posted an incredible 8.83 and 7.83 to claim the heat lead.
The remainder of the final saw the Brazilian multiply his efforts to try and overtake Christie but eventually fell short of producing the surfing needed by the judges for an excellent 8.17.
Christie, a former Championship Tour surfer who failed to re-qualify at the end of his first season amongst the World's best, made a statement today in Martinique claiming he wants back in and has the surfing to back up his ambition.
"When the waves are like that you can forget everything and just go out there and surf," Christie stated. "I feel like I've improved a lot (since his CT season), I've just been working really hard and I learned a lot when I was on tour. It doesn't feel like it's over, it's just the beginning of the year so I just have to keep doing my thing."
Lopes, who finished his 2016 QS season ranked 12th in the world and barely missed out on a maiden CT spot, proved all-week that his main goal hasn't changed and his motivation to reach the holy grail of surfing is still going strong.
"Of course I wanted to win but Ricardo deserved it, he's such a great surfer," Lopes said. "I'm really happy because I improved on my last result here and improving every step of the way is my ultimate goal. In a heat like that there's no room for mistakes and I made one so that's fair, I'm already moving on and ready for the next challenge."
Far from absent in the final, Lopes made a single mistake on a wave with good potential but kept fighting up until the final buzzer to try and close the gap and overtake his opponent. With a runner-up result and the associated 2,250 QS points, Lopes will climb up the overall rankings before the next stop in Barbados.
In the opening semifinal, Noe Mar McGonagle (CRI), 20, unfortunately couldn't match Lopes' rhythm and only claimed average scores. The powerful Costa Rican, who had previously posted excellent numbers throughout the event, was left chasing a near-impossible 9 point ride given the conditions in his heat.
Following an excellent performance at the Australian Open of Surfing, McGonagle once again proved his form in 2017 is second-to-none and he'll be one to watch in the all-important qualifying race towards the Championship Tour.
"Final day was tough for me, the waves were a little bit slow in our semifinal but I'm happy to move up the rankings a little bit and hopefully I can keep going like this and maybe reach the final in Barbados," McGonagle stated. "I'm actually more comfortable on my backhand and the next event is on a left so I'm just going to concentrate on what I need to do in the first heat and work up from there."
In the second semifinal, Soli Bailey (AUS), 21, had done the job with a solid 16.17 heat total up until Christie selected a great set wave and committed to two highly risky maneuvers for the winning 8.73 ride. Bailey leaves Martinique with an added 1680 qualifying points to his season tally and a few spots up the rankings.
"It's always tough when you go through the whole week working hard and you have a loss like that," Bailey admitted. "But it's a really cool place with an amazing high-performance wave so I'm stoked. I have one more chance next week in Barbados, my surfing's on point and hopefully this time I can really capitalize on my form."
MARTINIQUE SURF PRO FINAL RESULTS:
1 – Ricardo Christie (NZL) 16.66
2 – Bino Lopes (BRA) 15.57
MARTINIQUE SURF PRO SEMIFINAL RESULTS:
SF 1: Bino Lopes (BRA) 14.77 def. Noe Mar McGonagle (CRI) 11.27
SF 2: Ricardo Christie (NZL) 17.23 def. Soli Bailey (AUS) 16.17