Subscribe
NZ SURF MAG 176 July/August
The Legends Issue
While the waters chilled and some snow has fallen, winter so far has been filled with epic runs of swell and all time conditions on all coasts of Aotearoa and the surf population is stoking. Here at NZ Surf Mag we've done our fair share of scraping early morning ice off windows, driving through weather bombs and throwing our photogs out in plenty of rubber to bring you the gems of these colder months. NZ truly is an epic country to be a surfer and the waves featured in these pages prove that time and time again. Another piece of the surf culture puzzle that makes up NZ surfing are the surfers themselves, and while we are very quick to heap praise on the international superstars of surfing, here in good ole NZ we have a heap of surfers that have punched well above their weight and placed NZ on the map, just as many of our other pioneering adventurers and sportspeople have and continue to do. Wasn't it great to see Emirates Team New Zealand against all odds, when even the rules seemed to make it an impossible feat, lift the auld mug and bring it on home! So while the world was celebrating this David Vs Goliath achievement, we thought it was time we celebrated many of our own surfers, homegrown legends!
On the COVER we feature 6X National Champ Raglan lad, Billy Stairmand. Billy spends most of the year travelling so when he returns home he likes to spend time with his loved ones and put his feet up for a while before jet-setting off to take on the best in the business on the World Qualifying Tour, so we were stoked that Billy joined us for the legendary PITA PIT ROADY along with top junior Kehu Butler, where we headed for the West Coast surf zone of Taranaki. Our first stop of the trip offered up an epic right hand sand bar at the mouth of a West Coast river, and combined with a magical West Coast winter sunset, the cover was born.  For the rest of the week the Roady took us up and down Surf Highway 45 where we scored magical waves at the end of every road.
FEATURED:
The GOAT:  Over the spanning years of surfing here in NZ there have always been calls and claims of who is the best, who is the greatest ever! This is a complex question as quite often when asked, certain individuals show favouritism, have a relationship or connection with a certain individual or have been on the scene to witness their surfing prowess first hand more so than another surfer. Over several generations of surfing here in NZ there have been legends and GOAT's (Greatest Of All Time) surfers, with no real way of comparatively separating them aside from stories, legends and results. The best surfer title also varies from person to person, is it the surfer with the most titles? Is it the surfer with the best ability in small, medium, big, or hollow waves? The best surfer at one particular break? Or is the best surfer the one having the most fun?
After an intensive round of voting where we polled surfers of all walks of life; male, female, old, young, pro's, beginners and everyone in between, we have come up with the Top 20 NZ GOAT surfers and are now wanting feedback from our readers to decide who is the GOAT?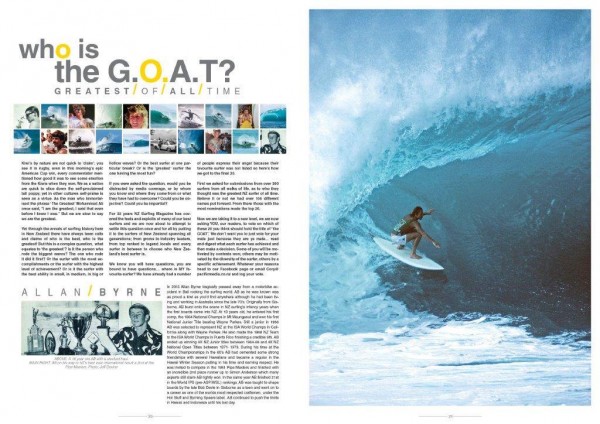 The NZ surfing community recently lost two of its LEGENDS who gave their time and lives on this planet to shaping not only a sport but the lives of those they were involved in. We celebrate the lives and legends of Bob Davie and Bob Hansen. Bob Davie single handedly shaped the industry and a sport as we know it today, when he graced us with his presence as a 21 year old way back in 1963; his input is undoubtedly the largest contribution to NZ Surfing history. Gisborne's Bob Hansen across his local region shaped the lives of those he taught as a teacher across several generations and was locally given the title of 'Sheriff Of Makorori" with his skills in mentoring and inspiring people coming to the fore in none other than as the NZ Junior Surf Team Coach when in 2001 he took his charges to the World Title, the greatest day in NZ surfing competition history.
The EXPOSURE PHOTOSPREAD delivers a few gems from Winter sessions preserved for your stoke!
The Rip Curl Raglan Pro once again pulls the surfers and the crowds in with an epic Tasman Swell and lights up the seaside town. Featuring the top surfers in the best waves, a recipe for mind blowing surfing!
Also featured inside:
Introducing- Josh Curtis
The Road Warrior- Elliot Paerata-Reid
From The Inside Out- Paige Hareb
Freestyle Rising Grom- Finn Johnson
NZ Surfing is available at all leading bookshops, newsagents and surf shops throughout the country. You can also subscribe at pacificmedia-shop.co.nz   or for digital subscriptions go to magzter.com