Features
Published on March 6th, 2020 | by nowhere man
0
The Hype of Slater
It's only just more than a week away and the long-awaited return of the King of surfing to the shores of Aotearoa to compete in the WSL Piha Pro Challenger Series.
Contrary to the press release that announced Slaters return to competition on NZ soil, we thought we would correct the misinformation and remind even Kelly himself that he has never competed in NZ! SO THIS IS THE FIRST TIME THE KING KELLY SLATER WILL COMPETE ON NZ SOIL!!!
And the hype is real! Here we have our chance to see the GOAT of surfing hopefully shred a few Piha waves (this may require him to select something that doesn't close out) but I'd be excited to even see him ride a whitewater straight to the beach.
Kelly gouging Stent Photo: Mike Spence/NZ Surfing 
Kelly Slater first came to NZ in 1993 as the newly crowned ASP World Champion ( the youngest ever champion) on a pretty stealthy promo tour for Quiksilver, he had just had minor surgery on his knee two weeks earlier and arrived into NZ with the legendary 2X World Champ Tom Carroll and Kelly's then-fiancee Bree Pontorno. The visit has been shrouded in secrecy and was at least 20 years away from the ease of cell phone messaging and social media, yet in showing how powerful word of mouth is Kelly and Tom rocked up to Piha to find they were mobbed by crowds of fans all wanting a yarn. Kelly didnt surf at Piha that trip as he was hesitant in giving his knee a go. So, in fact, we are certain that when Kelly paddles out at the Piha Pro it will be his first time in the waves of our iconic birthplace of modern surfing.
From Piha, the surf stars were loaded into a private plane piloted by the owner of Seasons Surfshop in Newmarket Paul Christian, and along with Ranoch Goodwin ( the godfather of Quiksilver in NZ) and the editor/photographer of NZ SUrfing at the time Mike Spence, they flew out across the Coromandel and down along the Bay of Plenty on a mile high tiki tour, bound for Gisborne, they flew up and around the East Cape which had Tom frothing at all the underground spots he spied from the air.  In Gisborne groms Maz Quinn and Damon Gunness were waiting at the airport for the arrival of their heroes and once landed in what Maz describes as the smallest plane he'd ever seen, they made their way out for a shred with the Gizzy locals at Makorori and Kelly took one look at the waves on offer and decided to go test his knee which blew the local crew on hand away and is still talked about fondly till this day.
After that session, it was back in the sky and bound for Taranaki, where the lads rocked in, to the sight of Stent Rd firing and got acquainted with the local crew, with both Tom and Kelly putting on an epic display, and were both full of praise for the local surfers for sharing their lineup as well as blown away by the level of surfing.
The spread in NZ Surfing June/July 1993
The two legendary surf icons meet Taranaki icon Dano Warere
A baby faced Kelly having a good old fashioned kiwi feed of fish in chips.
Maz Quinn in awe of Tom Carroll. Photo: Spence/NZ Surfing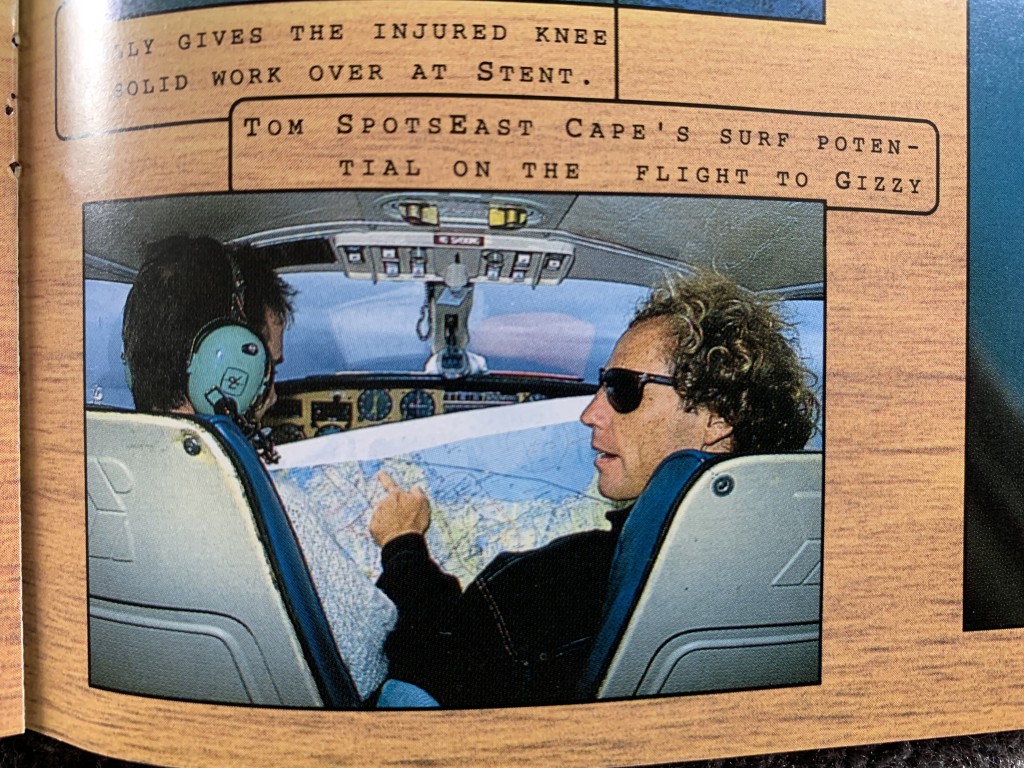 Tom frothing on the possibilities of this coastline
Tom attacking the Stent bowl
Over the next 25 + years Kelly went on to immortalise himself and win an unprecedented 11 World Titles to become the greatest surfer of all time, and one of the most famous athletes on the planet, winning titles over three decades, and still sitting in the World Title mix at 48 years old.
Several times during these years, NZ Surfing Mag was excited to have Kelly coming on our road trips several times, and each time only the night before he pulled pin due to reasons such as niggly injuries and contract negotiations he had to attend to. So we never got to have the GOAT in his prime on a hardcore NZ Surf roady. Last year Kelly, who is a super passionate and talented golfer, was seen cruising around north of Auckland and he ended up shredding a few waves at Forestry and Mangawhai stoking out the local crew who were totally surprised by his showing.
Kelly rocked up to Mangawhai in 2019 and washed off the cobwebs with a few. Photo: Ella Buckle
Kelly stoking out local Mangawhai fan Vivienne Buckle. photo: Ella Buckle
YES that is Kelly Slater standing in the Forestry carpark, with local surfer Jacob Buckle.
So will the GOAT actually show up in Piha? We will have to see.. but here's hoping NZ fans and admirers get to witness the King in what he has announced as his last competitive year.