Features
Published on April 3rd, 2020 | by nowhere man
0
The Story behind NZ's heaviest wave.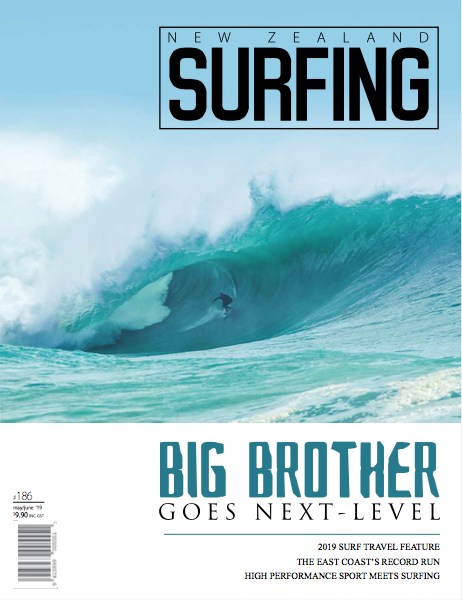 What can only be described as 'Beast' Sanga graced the cover of issue #186
WORDS AND PHOTOS: CORY SCOTT
Surely the heaviest and greatest moment in NZ big wave surfing history almost never happened. We all saw and marvelled at the monster wave that Sam 'Sanga' Willis rode on the 11th of February 2019 which graced the cover of NZ Surfing #186. But what many don't realise is that this short-lived window of opportunity almost never eventuated. We take a look at the behind-the-scenes moments that lead up to the monumental session.
All big wave sessions have that one moment, that 'One' wave that stands out from the rest and is plastered everywhere across the media for everyone to marvel at. But what we often don't see or hear about is the lead up to those moments, the struggle, the disappointments, the almost and so on… All we see and hear is that pivotal moment that stands out in lights.
Now, let's take a look a look at several swells that really changed the face of surfing so you can get a sense of what we are saying here. That one moment from each historical swell that we all shake our heads at and think "That's crazy!"
2000- Laird Hamilton Millenium Wave Teahupoo.
2001- Project Neptune- Cortes Bank Mike Parsons rides the biggest wave ever seen on this planet at that point.
2009-Code Red Teahupoo- Nathan Fletcher rides the bucking bronco on a wave that simply can't be fathomed.
2011- Garret Macnamara rides a 78-foot wave at Nazare which at the time was credited by the Guinness Book of Records as the Worlds biggest wave.
2012 -The Fijian Mega swell- Mark Healey ditches his board on a wave so big and perfect which was never thought to ever exist.
2018- Ramon Navarro's gigantic barrel at Cloudbreak.
These are just some of the most recent and pivotal moments that come to our mind that are etched into our memories, and from each of these sessions, one constant is clear, they all had that one 'STAND OUT' moment, that changed the face of surfing forever.
In February of 2019 during the South Pacific Cyclone season, a few numbers began to drop and feed the hype that is Cyclone swell chasing. Closing in on the arrival of this swell, what was so unique was that not only had these numbers not dropped, but they had grown! And the conditions were forecast to be almost perfect. The phones began to ring red hot amongst the network of a few dedicated soldiers. As for the rest of the surfing population, they had their sights fixated on a couple of unique novelty spots that only fire up every ten years or so.
Planning ahead I had loaded all my camera gear into the car and headed to the Hawkes Bay for a weekend of trout fishing. I live in Gisborne and cover that region extensively year-round, so I was really looking forward to doing something different and was also planning on heading up to the Coromandel with the rest of NZ. I'd pulled off the river around lunchtime, and set my GPS for the top of the Coromandel, and easy 8 1/2 hour drive from my location. My phone then rang with a frantic Sanga Willis begging for a ride up to Gizzy to chase this swell. I have known Sanga since he was 12, and he has always possessed the ability to motivate crew into taking a chance on something special, and more often than not it happens. I was pretty certain I was going to the Coro, I'd covered this wave in question three times before with the first session ever, still regarded as the best left-hand big wave session in NZ. So I didn't really see the point of going over the same old. Five minutes later Sanga called me back, he was desperate at this point, he had become stranded in Napier due to sharing on the road repping duties with his at the time girlfriend now wife, who had work commitments she couldn't adjust, Sanga had tried to book a bus but they were all full. I could sense the pain in his voice and at the same time his belief that this was a monumental swell in the making. I caved, and with that, I made a few phone calls and cancelled my commitments with others up the Coromandel that didn't go down too well either. Ten minutes later I was standing outside Sanga's hotel room in Napier and part of the team was assembled, bound for Gizzy.  We made a stop in at a certain wave that faced the same direction just on dark and the signs of a growing swell were there for us to see. If it was this big already, the next morning was going to be off the Richter.
6:04 AM and the sight that dashed all hopes.
We arrived at first light to the feeling of an onshore breeze blowing straight into our faces, and barely any resemblance of whitewater crashing on the rocks. Not only had this swell not hit, it was half the size of the night before! perhaps the troppy had dropped to fast and the swell swung too far south? I drove to a point in the road where I could get wi-fi signal and checked the charts, cams, and made a few calls. On the other side of the Cape, the swell was in full force, it was a stunning blue sky day, and all the crews chasing up that way were frothing and screaming as they pulled up at each break. I felt sick! I felt I had blown it and made the completely wrong decision, based on emotion rather than my gut, or is a gut feeling an emotion? Anyway, while the place I was supposed to be was sunny, offshore, and flawless A-Frame barrels, I was staring at onshore, barely four foot of swell and rain!  Even worse for the other crew that sat there staring aimlessly at this situation unfolding, they had taken the day off work, for this! There was talk of pulling pin while it was still early and heading back to work for many, and I decided to at least salvage something from the day, and head a few hours north and hit a novelty wave myself. We all got in our cars and dispersed in our different directions. Coming back around the coast I saw a mate on the roadside checking out another wave, and I pulled over for a chat and we ended up sitting there talking crap for a good hour, I was in no rush to head north as the tide was on my side. At that point I had a few messages of urgency to reply to, so headed back to that point of wi-fi coverage which also happened to overlook the reef we had come to surf. Nothing really had changed, the rock slab barely surging under the mediocre swell. If this was to even start breaking it would have to quadruple in size as a starting point, and I couldn't see that happening.  Little did I know the other lads had actually decided they would take a look at surfing another wave on the way home so they were still in the area. Here I was standing on this grassy knoll, waving my cell phone filled hand above my head pulling in a signal from the heavens. A few calls from several semi keen lads still at work began to come through, wanting to know if it was worth whipping down for, or what they were missing. taking a few pics of what pay in front of my eyes, their response was "That looks like shit! I'll stay at work".
After hanging around for 3 hours the wind swung at 9:22AM but it was still barely breaking.
I hung on that point for an hour when I suddenly felt the wind swing from my cheek to the back of my ears "OFFSHORE" and within minutes that jumbled look of the ocean began to smooth itself out. yet on the swell department, nothing had changed. I made a call to the other lads, simply to say the wind had swung and found them in the middle of getting ready to launch, yep old Sanga had talked them into washing off the cobwebs before heading home.
The lads hit the lineup at 10:05AM and the waves are rubbish.
Sangas first wave, washing off the cob-webs at 10:18AM, still junky, yet cleaning up.
30 Minutes later they appeared out in the bay, which would now give us some real perspective of what size it really was out there, yet regardless of size, the real facts were this wave was barely breaking, let alone throwing out the barrels it is renowned for. The lads bobbed out there for twenty minutes, basically wasting time, and towing into a few lumps of whitewater, and to quote Sanga, all they were doing was washing off the cobwebs.  I had been staring at that ocean and horizon for a good four hours by this point, but then just as the wind had changed so quickly, my vision of the horizon began to appear a lot different, all of a sudden I was watching these lumps rise and fall and within minutes lines were beginning to fill the bay. A couple of waves began to actually break on the reef, stand up and crumble. From this point on what I had been staring at all morning began to change real fast. I jumped back on the phone to let these guys back at work know that perhaps it was beginning to happen. then within ten minutes, it was happening. The horizon from my perspective began to blackout, and massive swells rolled into the bay. A few waves were ridden and a few hoots were let out but at that point only an appreciation of getting something rather than nothing. Then it was almost as if set that approached double in size. A genuine 8 foot wave was ridden, then a 12, then as the lads scrambled to pick each other up from being caught inside, a huge set thundered across the reef redefining what I'd ever seen in NZ. By the time the lads were back out in the lineup and taking it all in, it was too late for them to slowly adjust and get a handle on it, this was happening right here right now!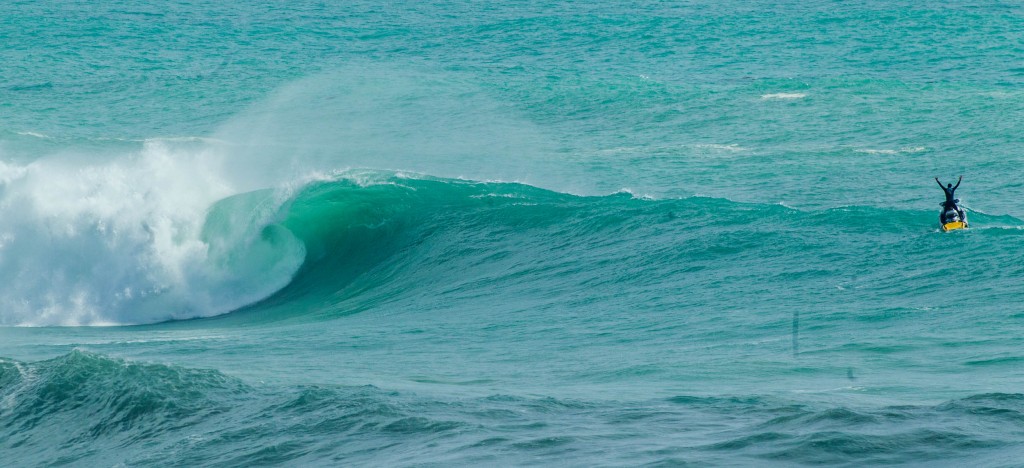 Blair Stewart celebrates the first real wave to hit the reef at 10:27AM
Blair Stewart who had partnered up with Sam Willis has of a lot of experience in the big wave arena and behind the wheel of a ski, yet the other crew of Damon Gunness and Tommy Dalton were a little hesitant, with Tommy later admitting, he wanted no part of this madness! Yet, with only limited experience driving a ski, Tommy did a superb job, dropping Damon into the beast. Back on the safety of the land, I was jumping up and down like a mad man, I had been involved in almost every pivotal big wave session and discovery of big wave breaks since 1999 when this movement began to take hold. I had shot this wave for the first time 10 years earlier from the ski in the channel while driving solo with my knees, yet what I was seeing unfold right at that point was a completely new realm. One wave Sanga rode, I was screaming with my hands raised above my head, claiming that this was the greatest moment I'd ever witnessed in NZ surfing. Hell, I even jumped online and claimed it almost live, after all this was historical and really it didn't matter if others were to find out! But what I didn't realise at that point was shit was about to go nuclear.
Sanga and the first wave that had me frothing beyond belief. 11:40AM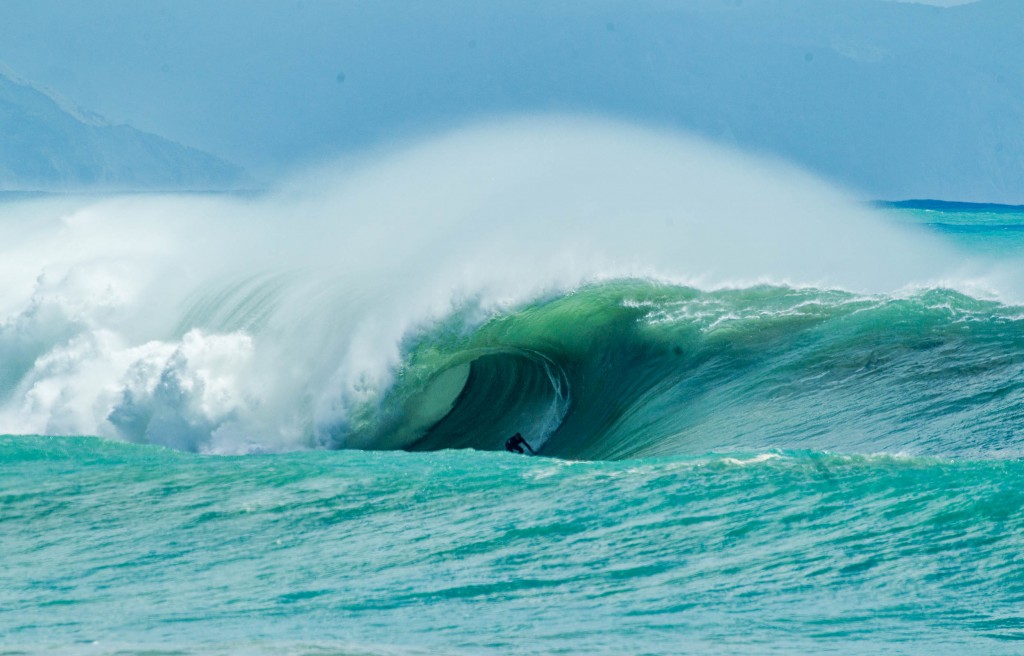 Damon Gunness on the very next wave at 11:41AM 
The pinnacle of the swell and the pinnacle of big wave surfing in NZ. Sanga locked in the belly of the beast. 12:13PM
As I explained, every set was getting bigger and bigger, Damon rode a massive beast followed on the very next wave by Sanga who ignored his partners request not to go "It's too big" Sanga went into animal mode and although Blair had set his line to pull off the wave, Sanga used that momentum on an angle to whip down this giant wall of ocean before it drew off the reef and threw out its gaping fangs of death, a challenge from the belly of this beast for Sanga to call on all his years of experience and stare down that beast and ride the wave of his life. I didn't talk or jump around after that wave, I couldn't! I had NEVER seen anything like this, nor will I possibly ever again. The next three sets were so big that they broke on another section of reef out further, and turned the entire bay into a frothed up whitewater smoothie. Big Brother had MAXED out and from that point on each wave that broke appeared a lot more scrambled than that magical 20 minutes leading up till that moment. Sanga cashed in his cards and swapped out with Blair who threaded a few insane waves. To see these two bro's work as a team after so many years of chasing swell together and for it to all come down to a moment like this was incredible, a true once in a lifetime experience.
Some of the waves that went un-ridden were incredible.
Blair Stewart way back and driving. Blair ended up laybacking over the foam on this one and was blown out. 
Blair from another angle.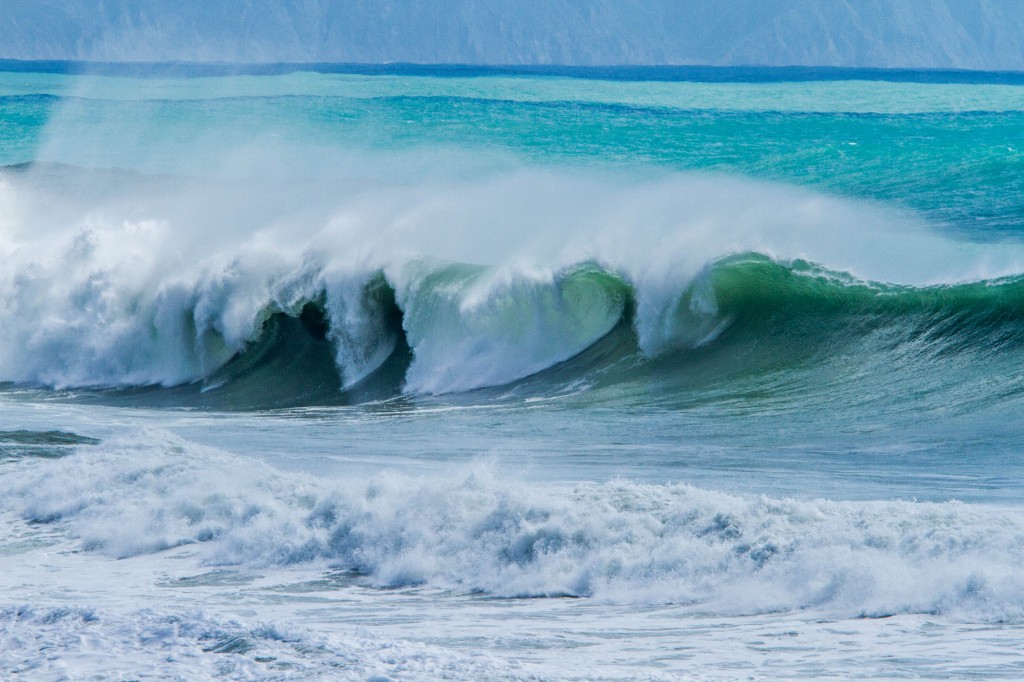 At the peak of the swell the waves began to close out creating a giant wobble and current through the bay.
And then as if someone turned the switch off, the sets became further apart and each wave became smaller and smaller. A couple of other crews had shown up by now, they probably had no idea of what had just gone down, but on any given day, what still existed was still phenomenal. And a few epic waves were ridden by Tommy Dalton, Blair, Magoo and Johnny Hicks. It was obvious Sanga was more than happy to sit the rest of the session out on the ski. While the session continued and some waves kept breaking, we had just witnessed serious 30-foot waves turn inside out and no wit was a mere 8 foot, yet looking magical with blue skies and emerald green water. The lads looked like they were done and began to pack away the rope and head on in when a fresh crew came around the corner, and the lads turned back and decided to share a few more waves. From the overlooking hill, this seemed like. a great idea, the sun was shining, it was warm and it's not every day you see a bunch of guys packing 8-foot kegs.
After some impressive driving, Tommy Dalton built up the courage and slotted a few late afternoon.
Sanga and the section that snapped his leg. Trying to eject his front foot got stuck in the straps and the board spun around and was driven down by the force of this section and the rest was history. This was the smallest wave Sanga rode this day.
Sanga caught in the impact zone about to cop another slab on the head with a snapped leg dangling below.
It was a slow drive back into the boat ramp.
This would be child play compared to what I had just witnessed.  Then as a multiple wave sets drained across the reef, and Sanga set his line from way back, he was clipped by a frothy slab on the end, he never came up in a hurry which is always concerning, and when he surfaced he looked like he was happy to play around in the impact zone copping another dredger on the head and not attempting to get out another concern. the next thing we knew he was being helped onto the rescue sled and headed for the boat ramp. We rushed down the hill and around to meet them, and from 100 metres away we could see Sangas leg was definitely not looking the correct shape. With two wetsuits on for buoyancy, these had to be cut off with tiny first aid scissors and rushed off back for an hours drive to the hospital. Sanga was due to get married in two weeks and aside from the obvious excruciating pain, his biggest fear right then was breaking the news to his bride to be.  Sanga had just ridden the heaviest wave in NZ Surf history and yet this was no time for celebration or jokes. A few weeks in hospital and a couple of rounds of surgery later, we are pleased to inform you, Sangas wedding did go down, and yes there were plenty of jokes by then. Even a big smile and sense of pride when anyone mentioned or showed photos of that wave.  I'm not too sure if one's destiny can be changed or altered, but I do know that despite all the cues leading up to that wave, that this moment was somehow always destined to happen against all odds.  What if I had taken that left-hand turn, from Napier to Taupo and onward up to the Coro, what if Sanga hadn't called me up begging, let alone cancelling his appointments, what if I'd never gone to check that email at the wi-fi spot, or what if Sanga had never convinced those lads into washing off the cobwebs? The world and life are full of  'What if's'. live your life to the fullest!
The different views over the course of the treatment.